ASU Club Translation Challenge
The first installment of Simultaneous Translations will highlight the language diversity in ASU's student communities.
Thousand Languages is partnering with clubs and student-run organizations from all ASU campuses and will feature their simultaneous translations on the database. Participants will translate the feature poem into a chosen language. Translations may be submitted collaboratively as a team project or individually by a club representative. Clubs may submit multiple translations in the same or different languages. This is a fantastic opportunity to contribute your voices to an exciting new project. Join the challenge!
—Feature Poem To Be Shared in the Coming Week—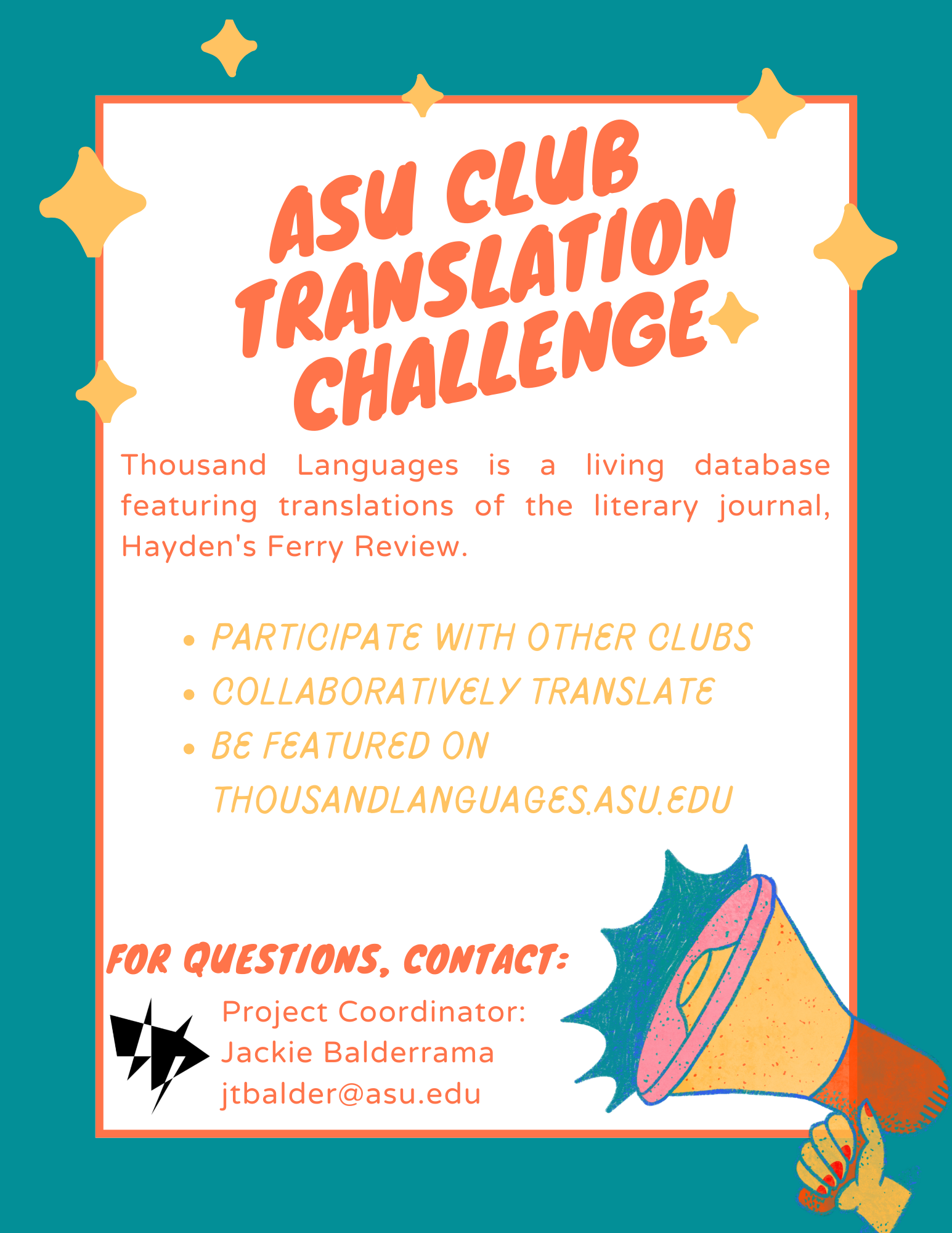 Guidelines
Eligibility:
Any ASU club or student-run organization may participate.
Languages:
The challenge requires participants to translate from English into their chosen language. This includes interlingual translation as well as translation across text-type (i.e. written to signed languages, written English into visual art or dance, etc.)
Review:
Prior to submission, translations must be reviewed by your club's faculty advisor or other appropriate scholar.
DEADLINE: NOV 16 at 11:59pm.
Please have ready:
Names of all participants
Club Information
Club Advisor Contact
Complete Translation
Note: Submitter must log in with their ASU email.
Questions
For questions, contact project assistant: Cecilia Savala at cssavala@asu.edu
About Simultaneous Translation
Can there ever be a definitive translation of any text? A translation so complete that others are unnecessary? Or are there infinite versions of that text that could exist, adding shades of meaning, personality, or nuance to the source text?
We believe in the value of a multiplicity of voices and interpretations, each of which adds complexity to our understanding of a source text. Therefore, every sincerely embarked upon translation has its own authority, stemming from both the original language text and its translator. To highlight the simultaneous nature of translation, which allows these many versions to exist concurrently, we're asking for bilingual people and translators of all levels, from around the world, to respond to a single text simultaneously. Our next simultaneous translation will be scheduled soon.